(美国泽维尔大学孔院中方院长杨涛供稿)我校与美国泽维尔大学合作建设的路易斯安那泽维尔大学孔子学院2012年10月成立以来成绩斐然,其长足进步多次得到包括《China Daily中国日报》、 NBC 电视台、《Diverse: Issues in Higher Education多元化:高等教育期刊》、《The Louisiana Weekly路易斯安那周刊》、《The Advocate先锋报》、 《The New Orleans Tribune新奥尔良讲坛》等国际、全国性、州、市级主流媒体报道。
当地时间2017年3月28日, 路易斯安那州两大报章之一《新奥尔良时报》刊发了资深专栏作家Tina Soong 标题为《Xavier's Confucius Institute snares 'Institute of the Year' honor泽维尔孔子学院荣取'先进孔院'称号》的整版新闻,以泽维尔孔院获得2016年先进孔院为肇端,详细回顾了自2012年建院以来的成长历程。
文章说,5年来,泽维尔孔子学院不仅为当地民众提供了从小学零基础一直到大学高级汉语的课程、还举办了各式各样的文化节日,并多次为新奥尔良师生组建赴中国夏令营、大学生海外学习项目、赴华教育代表团,对地区贡献甚大。文章提到获得2016年先进孔院是一个巨大的荣誉,泽维尔大学为此获益良多,并强调学生通过汉语学习、文化交流和到中国旅游逐渐学会理解外部世界并意识到他们是世界公民,有助于扩展美国青年的视野、加强中美两国的友好关系。文章多处提到泽维尔大学在中国的合作院校河北大学,并为河北大学对孔子学院提供的强力支持表示赞誉。
泽维尔孔院也成为其它孔院学习对象,中阿肯色大学孔子学院曾专门到访、阿尔佛莱德孔子学院曾来函咨询。文章最后还特地提到西佛罗里达大学杰出校级教授兼孔子学院院长李奎元博士率队访问后感慨:"We strongly believe that our CI will do as well in the future, using Xavier CI as our model以泽维尔大学孔子学院为榜样,我们也坚信自己孔院将来会办得很好!"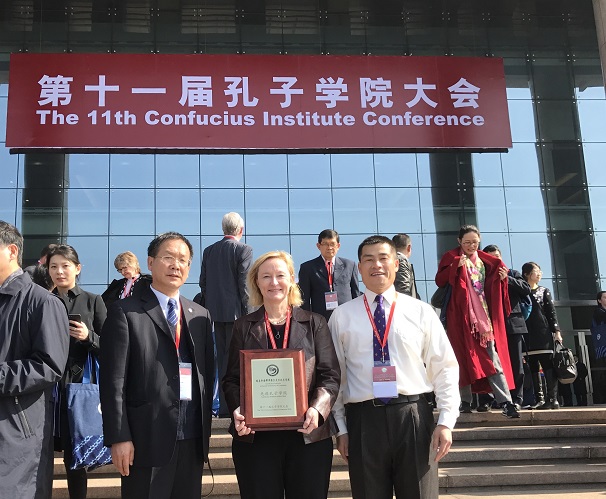 Dr. Li Xiaoliu, Hebei University, Dr. Anne McCall, Xavier provost and Dr. Yu Jiang, director of the Xavier CI accept the CI "Institute of the Year" award in China.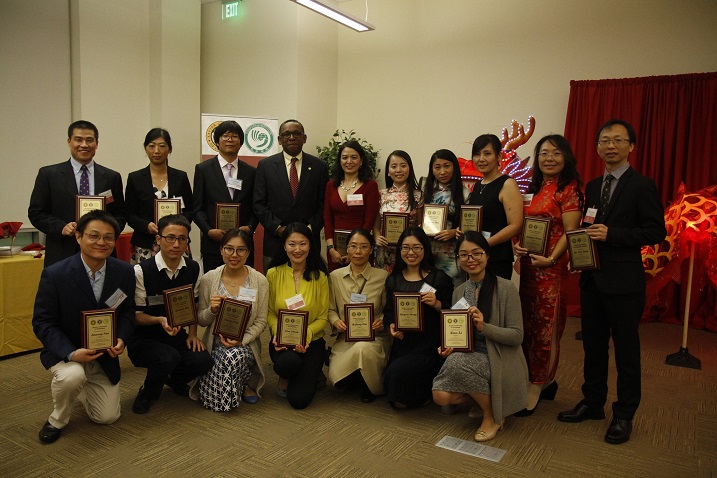 Front row, from left: Jingsong Pan (Warren Easton); Jiemin Hu (Benjamin Franklin Elementary); Xiaoqi Chen (Bethune Elementary); Yina Zhang (Xavier and Airline Park Academy); Kefang Liu (Benjamin Franklin Elementary); Qingxiu Zhong (Lusher Elementary); Xiao Li (Lusher High). Back row: Yu Jiang (CI Director); Yulin Wang (Lusher Middle); Yachen Zhao (Lusher Elementary); C. Reynold Verret (Xavier President); Shu Peng (CI Assistant Director); Zhijuan Song (Audubon Middle); Shuai Ma (Audubon Elementary); Yunxia Wang (Lafayette Academy); Haiyan Wang (Xavier); and Tao Yang (CI Associate Director) are pictured at the Xavier CI ceremony. 《新奥尔良时报》
报道链接:http://blog.nola.com/new_orleans/2017/03/xaviers_confucius_institute_is.html。全文转发如下:
Xavier's Confucius Institute snares 'Institute of the Year' honor
The Xavier Confucius Institute has earned 2016 global "Confucius Institute of the Year Award" and a celebration reception was held on March 16 at the university to celebrate. It was the first celebration of the distinction on American soil.
Dr. Anne McCall, Xavier provost, and Dr. Yu Jiang, institute director, accepted the award at the 11th CI Conference in December 2016 in China.

Xavier CI is part of a world network of over 500 Confucius Institutes and more than 1,000 Confucius classrooms. It was launched in 2012 in partnership with Hebie University, Hanban/CI Headquarters in China.
The Xavier CI offers elementary to advanced Chinese courses at the university and provides Chinese classes to K-12 students in greater New Orleans. The institute also offers signature programs, including cultural festivals, faculty and students exchanges with China, study abroad programs, education delegations to China, and distinguished lecture series, Jiang said.

"It is a tremendous honor to win the 2016 global Confucius Institute of the Year Award," Jiang said. "This award now officially recognizes our efforts and dedication to our students and places Xavier as a first-class Chinese language learning center. It is also a testament to the leadership of the administration, faculty, staff of the university, as well as the Xavier CI team, and the community."

Xavier President Dr. C. Reynold Verret addressed the local celebrants and talked about the impacts of Xavier CI on our city and state, and on the university, in particular.

"Xavier is a great beneficiary of the Confucius Institute," Verret said.
The students learn the Chinese language and culture through lessons and trips to China; learn to understand the wider world; and realize that they are global citizens, he said.
Verret also expressed appreciation of the joint efforts of the CI, the faculty and students of the university, as well as the supporters of Xavier CI in the community. He gave special thanks to Jiang.
"The CI at Xavier does not exist without the efforts of one important person here and that is Dr. Yu Jiang. He is an example for us all for how Xavier triumphs," Verret said.

Edward Lee, a director of US-China Strong, and president of Louisiana Newpack Shrimp, Inc., is a strong supporter of the Xavier CI since its founding in 2012. He presented another monetary contribution to the institute at the reception.

"One of the US-China Strong missions is to expand and diversify the numbers of Americans studying Mandarin and studying in China. Xavier CI is one of the institutions that contributed to the mission. I hope my contribution will help to provide the opportunities for Xavier students to learn the Chinese language and culture in classrooms and in China, to broaden their global
visions and to help strengthen the U.S.-China relations," Lee said.

CI board member Karl Turner donated a scholarship to Serena Newberry, an education major.
PRC Consul Genberal Li Qiangmin and Dr. Fu Guangsheng, president of Hebei University, Xavier CI partner in China, read congratulations at the event.
Among other guests, many school principals and administrators attended the reception, including Audubon Charter's Latoye Brown, Benjamin Franklin Elementary's Charlotte Matthew, Warren Easton's Alexina Medley, Lusher's Kathy Riedlinger, Lafayette Academy's Monica Boudain, Airline Park Academy's Jackie Markey, St. Augustine's Kenneth St. Charles, and Nicholls State's Rya Butterfield.
Dr. Kuiyuan Li, distinguished professor and director of CI at University of West Florida, and Pengpai Li, teacher, were among the guests.

"Under the leadership of Dr. Jiang, the Xavier CI has made great contributions on promoting the study of Chinese language and culture in Louisiana. We strongly believe that our CI will do as well in the future, using Xavier CI as our model," Li said.

Jiang has also been newly elected the president of the New Orleans Chinese Association. Six of his NOCA executive board members were invited to the reception-- Hsiaopo Chen, Hong Dai, Jing Hu, Hongbing Liu, Lan Wei, and Zhijuan Song.

Many awards were given. Among others, the Distinguished Service Awards recipients include Tim Francis, Karl Turner, Edward Lee, Dr. Rosalind Hale and Dr. Marguerite Giguette. The Service Awards were given to Shu Peng, Haiyan Wang, Yina Zhang, Zhijuan Song, Shuai Ma, Kefang Liu, Jiemin Hu, Jinsong Pan, Yachen Zhao, Xiaoqi Chen, Yulin Wang, Yunxia Wang, Qingxiu Zhong,
and Xiao Li. Jiang and Dr. Tao Yang, Associate/Chinese director, were presented the Distinguished Leadership Awards.

For information of Xavier CI go to www.xula.edu/confucius.